FIELD STATUS:
Franzen and Villa Madonna Field Status can be found at the Villa Hills Longhorns Twitter Account
Villa Hills Longhorns Instructional Baseball League: Sign-Up Information
These leagues are created & supported to make baseball a fun, learning experience for all kids.  All practices & games are local (Villa Madonna & Franzen Fields in Villa Hills), and all games are played on Saturday mornings/early afternoons.
2021 is now here, and that means it is time for Villa Hills Longhorns registrations for the Spring '21 baseball & softball seasons. All registrations will once again be completed online. As in years past, registration will remain open for a specified period of time, with this year's registration window for 8U-14U baseball and all softball programs closed as of Friday, January 15th. This deadline is required in order to get team rosters finalized, league registrations complete & uniforms orders. Please be aware that the Longhorns will not accept any late registrations this year.  Due to the unique "COVID world" we live in today, there are some changes to registration this year:
At the time of registration, we will NOT charge the players fees.  This will be less strain on our families during the Holiday season, and will allow us more flexibility if our season is delayed due to any restrictions that we cannot predict.  This round is about getting all players signed up so we know our numbers at each age level.  Fees will be due in late January/early February, and you will be notified when those fees are due
Registrations CURRENTLY CLOSED include:
Baseball: 8U, 9U, 10U, 11U, 12U, 13U, 14U
Softball: 'Lil Lady Longhorns, 8U, 10U, 13URegistrations CURRENTLY OPEN:

Tee Ball & Coach Pitch will open in January, and will remain open until February 22nd
Registration Details:
Villa Hills Longhorns Website Link

Permits are required for field use, contact the Villa Hills Longhorns to obtain a permit.
Parks & Recreation
---
City Owned or Leased Facilities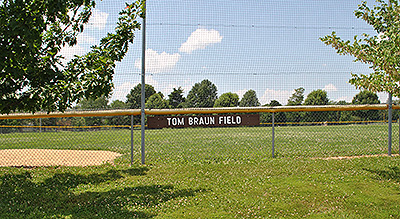 Franzen Fields: Rogers Road, behind the Villa Hills Civic Club
Harry Rigney Park: City Park with access off of Rollingwood Drive and Hacienda Court.
City-Civic Park: Rogers Road behind the Civic Club, adjacent to Franzen Fields
Villa Madonna Complex: on Amsterdam Road, in front of Villa Madonna Academy
Tom Braun Fields: at the Villa Madonna Complex
Cunningham Fields: soccer field at Villa Madonna Complex
City Events
The City holds events for the community throughout the year, such as community wide yard sales, Haunted Trails and Christmas Tree lighting.
Garden Club
The Villa Hills Garden Club was founded in 1996 for the purpose of improving landscaped areas in our city. We are a volunteer organization of hard working men and women who enjoy gardening and learning from each other. We are involved with many community oriented projects such as the Commemorative Garden, Yard of the Year Awards, Annual Plant Sales and Garden Tours to mention a few. Members enjoy day trips throughout the year and the club is a member of the Federated Garden Clubs of Cincinnati and the Civic Garden Center. We are a "hands on, come as you are" garden club. We are always open to new members. Our meetings are typically on the first Monday of each month at 7:00pm at the Police Dept. Building. If you would like to learn more about the Garden Club you can visit our website at www.villahillsgardenclub.org , send us an email at [email protected] or contact Martha Lange at 331-5517.
Baseball/Softball Opportunities Available
Organized sports such as baseball, softball, soccer and football are offered for children 5 years through high school. Adult teams are also offered in softball. Please contact the leagues directly.
Instructional Baseball sign-up (closed at this time)
Reds Kid Glove Game Tickets
Tom Braun Girls Softball Sign-up
Crosstown Baseball/Softball
District 30 Knothole
Northern Ky Baseball