Check the list below to see if your concern is addressed
Contact and Location
Location:
720 Rodgers Road Villa Hills, KY 41017. Our Administrative office phone number is 859.341.1515.
Situated across the street from the Vila Hills Civic Club and Franzen Fields.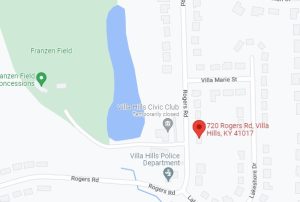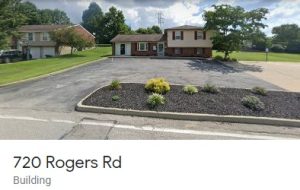 Hours of Operation:
Our offices are open 8AM to 5PM, Monday through Friday, and are closed on holidays.
For contacting a Police officer:
For non-emergency situations: Call the office number (859.341.3535) and leave a message.
If you need to speak with an on-duty officer and it is not an emergency, call the Kenton County Consolidated Dispatch non-emergency number:  (859) 356-3191
If you are having an  emergency call 911 immediately.
Contact and Location
Location:
720 Rodgers Road Villa Hills, KY 41017. Our Administrative office phone number is 859.341.1515.
Situated across the street from the Vila Hills Civic Club and Franzen Fields.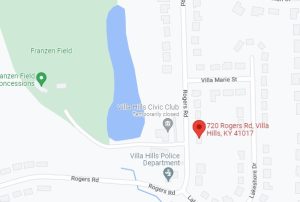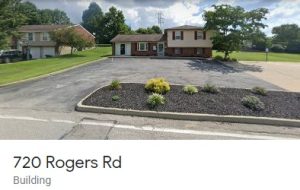 Hours of Operation:
Our offices are open 8AM to 5PM, Monday through Friday, and are closed on holidays.
For contacting a Police officer:
For non-emergency situations: Call the office number (859.341.3535) and leave a message.
If you need to speak with an on-duty officer and it is not an emergency, call the Kenton County Consolidated Dispatch non-emergency number:  (859) 356-3191
If you are having an  emergency call 911 immediately.
Taxes - How to look up, options to pay, and lienholder database information
Taxes are due on October 1st, each year.  There is a 60 day "grace" period in addition, making the 30th of November the latest a payment can be accepted without additional fees and penalties applied.
Again, at the latest, Payment is due before November 30th, each year.  After November 30th, your taxes will accrue late fees, penalties, and potentially a lien against your property.
You can check your property tax by clicking here.  If taxes are due, you can choose to pay online in the same window.  There is a 3% convenience fee for online payments.  Title companies should search for information here.
Please be aware that it takes 2 business days for online payments to show as paid online.  We receive an email immediately when a payment posts, so please call the office if you don't receive an email receipt and we can let you know if the payment was processed.
Villa Hills does not offer a discount period.
You can pay by check or money order at the Villa Hills City Building – 720 Rogers Rd, Villa Hills KY, 41017 – in person, by dropping payment in the box outside the door after hours, or by mail (Ensure that it is post-marked before November 30th!). There is also the option to pay online, outlined above.
Villa Hills does not have an income tax.
Lienholder Database
The City of Villa Hills complies with the system of lienholder notification requirements of KRS 65.8836; As a member jurisdiction of the Kenton County Joint Code Enforcement Board, our lienholder notification systems is administered by Planning and Development Services of Kenton County (PDS). To receive notifications of final orders issued within the City of Villa Hills, please sign up utilizing the link below.
Are there options for rent and utility assistance?
Open Records Information
CITY OF VILLA HILLS
RULES AND REGULATIONS RELATING TO PUBLIC RECORDS
In order to comply with the Open Records Act contained in Chapter 61 of the Kentucky Revised Statutes, the following rules and regulations shall be followed by the City of Villa Hills:
I.     All requests for inspection of public records of the City of Villa Hills must be submitted to the City Clerk's Office, 720 Rogers Road, Villa Hills, Kentucky 41017. Request must be sent by mail, or by email to [email protected].  Requests for City of Villa Hills records sent to any other office of the City must be forwarded to the City Clerk's Office immediately.
The request must be in writing and include the following information.  (A form is attached to aid citizens in making their request and also for City Departments to give out in response to requests).  OAG Open Records Form
     Name, mailing address, email address (if applicable), and telephone number of the individual requesting to inspect the records.
     The specific record(s) of which the requestor wishes to inspect or to receive a copy.
     Whether the records are requested for commercial or non-commercial use. If requested for commercial use, a certified statement stating the commercial purpose for which the records will be used.
     Verification the requestor is a resident of Kentucky as defined in KRS 61.870.
     Signature of the requesting party.
II.   The Office of the City Clerk is the official custodian of all records of the City of Villa Hills. Office hours normally are from 8:00 a.m. until 5:00 p.m., local time, Monday through Friday, except for recognized holidays and other times as may be established by the City Clerk for the efficient     operation of the City Clerk's Office.
Upon receipt of a written request, the City Clerk's Office will respond within five working days. If the records requested are open for public disclosure, the City will either provide copies of the requested records, or set a time when a requestor may inspect the requested records.  If the set time is not convenient for the requestor, the City Clerk's Office will attempt to coordinate a new inspection time convenient to all parties, but it may exceed five working days.  If the requested record is not open for public disclosure, the City will notify the requestor and provide the exception to the Open Records Act under which the request falls.
For public records requested in standard format for non-commercial purposes, the City Clerk may, at their discretion, charge 10 cents per page for photocopied material. If the requested information is in electronic format, the cost of the media and any mechanical processing may be charged.  Additionally, the City Clerk may charge postage fees.  The City will not charge for staff time required to reproduce records for non-commercial use.  Any fees shall be paid before copies are made.
For public records requested for commercial purposes, the City may require the requestor to enter into a contract which will include the fees charged by the City. The City will charge staff time required to produce copies of the records.  Any fees shall be paid before copies are made.
III.   The City Clerk shall make every effort to be as responsive as possible to the public regarding access to City records. For that reason, the City Clerk's Office requires the cooperation of all departments and offices of City government.  Failure of any employee to cooperate shall be viewed
as a direct violation of the City's Employee Policies and Procedures Handbook and the employee shall be subject to the disciplinary actions set forth in those Policies.
IV.    Certain records are not public records. Those which are not public are specified in federal and state law or rulings of the Attorney General or Courts.  The City of Villa Hills will not make those exempted records available for public inspection.
CONTACT:
 JENNIFER LIPSON, CITY CLERK
720 ROGERS ROAD
VILLA HILLS, KENTUCKY 41017
EMAIL:  [email protected]
PHONE: (859) 341-1515
Who do I speak with about building a fence, structure, deck, and other home improvements or zoning questions?
Planning and Development Services (PDS) of Kenton County provides the city's code enforcement, building inspection, zoning administration, subdivision regulation, flood plain development control, and comprehensive planning. As the City's code enforcement contractor, PDS is responsible for issuing permits and for investigating violations of the city's zoning, building and code enforcement ordinances.
Visit PDS website for information, applications, and contact information.
Who Handles Occupational and Business Licenses for Villa Hills
The Kenton County Fiscal Court collects business and occupational licenses (except Local Government Premium Tax) on behalf of the City of Villa Hills.
If you operate a business inside city limits, or have employees who work from a location within Villa Hills, the employer is required to obtain a business license and remit the City's 1.5% payroll fee.
Home based businesses will also require a zoning permit from PDS.
Door-to-door sales must comply with the City's No-Knock Ordinance.
Villa Hills does not have an income tax.
Residents who work outside the city do not pay the Villa Hills occupational license fee.
Resources for flight paths and noise due to aircraft:
For information regarding flight paths and noise due to aircraft, please visit the CVG Airport webpage.
Solicitor's application
A solicitor's license is required for door-to-door based business within the City of Villa Hills.   This is in addtion to a Kenton County Business License.  
Exceptions to the requirement for permits include: Church organizations, Election Campaigning, Youth Fundraisers for schools, sports, clubs, and scouts.
Application and a copy of driver's license for each person who will be going door to door will be required.  Payment of $20 application fee can be made with check or cash.
Residents in Villa Hills have the option to sign up as a "no-knock" residence.  These residences are identified by a sticker near the door.  Along with the licnese, the applicant will recieve a list of  "no-knock" residences to avoid.  This list does not supply any information beyond the address.
If a resident has not signed up, and would like to be added to the "No Knock List", simply call our office at (859) 341-1515 with your name and address, or send an email to [email protected], and state that you wish to be added to the list.
To report a solicitor that is acting aggressive, refusing to leave when told, or is otherwise suspicious, contact the Kenton County Dispatch at (859) 356-6191
Special Events Permit
A Special Event Permit is required for any festival, ceremony, show, demonstration, exhibition, pageant, transient amusement enterprise, outdoor temporary gathering or similar event, in or on or having substantial impact on any street, park, or other public place in the city. Any person or organization wishing to conduct or sponsor such an event is required to complete the City of Villa Hills 
Find this permit application, and other applications on our Website's "Forms and Applications" page.  
Parks and Sports Leagues
The City of Villa Hills partners with the Villa Hills Longhorns for controlling field rentals and park information. Permits are required for field use, contact the Villa Hills Longhorns to obtain a permit.  Website link below.
Baseball/Softball Opportunities Available
Organized sports such as baseball, softball, soccer and football are offered for children 5 years through high school. Adult teams are also offered in softball. Please contact the leagues directly.
Instructional Baseball sign-up
Reds Kid Glove Game Tickets
Tom Braun Girls Softball Sign-up
Crosstown Baseball/Softball
District 30 Knothole
Northern Ky Baseball
See the linked sites for sign up availability and season information.
Does Villa Hills have a Fire Department?
Currently the City of Villa Hills contracts with the Crescent Springs Fire Department for Fire and EMS services.
The Crescent Springs/Villa Hills Fire Department proudly protects 13,000 people living in an area of 12 square miles. The Department protects two suburbs of Cincinnati, Villa Hills (which was voted America's most livable city), and Crescent Springs as well as un-incorporated areas of Kenton County.
The CSVFD operates out of one station that protects a primarily residential area. The department is a private department whose members are on a combination of paid and volunteer status.
The Crescent-Villa Fire Authority, which oversees the financial contributions of Villa Hills and Crescent Springs to the CSVFD meets the 3rd Monday of the month at 6:00 p.m. at the Fire station located at 777 Overlook Drive in Crescent Springs.
Meeting minutes and financial records for the Crescent-Villa Fire Authority can be found on the Transparency page of our website.
Lost and Found
Found items often get turned into the City or Public Works staff and are held at the City Building pending identification of the owner.  High-value items are often turned over to the Police Department to be securely held until the owner can claim it.  We will always post on Facebook about items turned into our office.  You can call our office and the Police Administration office to check if a missing item has been turned over to the City:
City Admin:  (859) 341.1515
Police Admin: (859) 341.3535
What is TBNK?
The Telecommunications Board of Northern Kentucky administers the cable television franchise agreement with Time Warner (formerly Insight), advocates to help with unresolved customer service problems on behalf of our residents, regulates pricing for the basic cable tier, and provides local Public Service Television Programming for Northern Kentucky. The Community Program Center gives our citizens and organizations a chance to create and air television programming reflecting the flavor of Northern Kentucky. The monthly Council meeting is broadcast live on TBNK and an archive of previous meetings is available on the TBNK website.
Improve your child's safety
– Make sure your children know their address and phone numbers for Guardians and/or emergency contacts.  Help them learn this information by memory and have the info posted somewhere they can find it within the home.
– Make sure your children know where you are and when you'll be home.
– Make sure your children know how to call 911 and can answer the questions Dispatchers will ask: "Where are you" "what is the emergency" "Are you alone" etc.
– Teach your children to have caution around animals that are wandering unsupervised.  Teach them to ask permission from pet owners before approaching and attempting to pet an animal when the owner is present.
– Teach your children to always watch for and be aware of vehicular traffic when they are playing near or in the street.
– For young children or children with learning disabilities who like to wander, find a way to stitch or attach name and contact info to their clothing or shoe for first responders so locating their Guardians can be expedited and their stress lessened.
– Be engaged with your child and have an active role in overseeing their social media activities.  Apps like Instagram, Reddit, Discord, Snap Chat, and other limited-time messaging apps allow predators to connect and communicate with young people.  Predators often offer money in exchange for photos, which is enticing to teens.  Ensure that your child is not responding to requests for illicit images of themselves by communicating with them about the dangers and ensuring that you have access to their social media as well.
Frauds, Scams, and Identity Theft
Many criminals utilize phone, email, and internet services to con unsuspecting /inexperienced users out of thousands of dollars.  Caution and care are advised in online presence and responding to unexpected notices of fines or government action.
When do I report identity theft/fraud to police?
When you have lost money or possessions as a result of the crime.
How do I know if something is a scam or not?
Businesses, all government and law enforcement entities, and all financial institutions will never ask you to pay your bills, fines, or to avoid pending court appearances by purchasing gift cards.
Remember, you have to enter a contest to win a contest.  Unsolicited notifications for awards you did not enter to win should be immediately suspect.  
As a rule of thumb, if it sounds too good to be true, it is.
No award or lottery-style winnings require you to make a payment in order to receive a payment.
If the person insists on being on the phone with you throughout going to the store for gift cards or the bank for funds, and they become threatening or increasingly upset with you when you delay or talk to other people, this is a sure sign that you are being scammed.  The last thing a criminal wants is for someone to stop you from falling for the scam.  Hang up immediately.  They may attempt to call you back multiple times and become increasingly threatening.
In response to the growing problem of scams and cons, many federal and official organizations have complied response guidelines for reporting and investigation of scams and cons.
I am the victim of Identity Theft or other fraudulent criminal activity – what do I do?
Notify your financial institutions, involved and not involved, so that your accounts can be closely monitored.  Determine if you have lost any money or other possessions.
If you have not lost any money or possessions as a result of the crime, report the scam to the KY attorney General by Clicking here.
 If you have lost money or possessions, make a police report by calling Kenton County Dispatch at 859.356.3191
You may choose to report the scam to the Federal Trade Commission as well.
If you have been affected by an international scam, report it through econsumer.gov.
Lastly, you may choose to notify one of the major credit tracking organizations in order to secure your personal information.
Below are links for information and a step-by step plan for what to do if you have fallen victim to a scam.
Crime Prevention Tips
Becoming a victim requires giving someone the opportunity to commit a crime against you.  This can involve being unaware of your surroundings, leaving valuable items in view inside a vehicle in a parking lot, or leaving your home unsecured while you are away.   Crime prevention is a matter of decreasing opportunities for crimes to occur.
Always secure your property.  Whether it is your home or your vehicle, lock your doors and make sure that the key is not in the vehicle or hidden in an obvious location.  Place items of value or that could be mistaken for having value in the trunk or completely out of sight under the seats.
Invest in home security devices.  The degree to which you do this, and the type of security is up to you and your budget for it.  Generally, having some manor of recording device that oversees the front entry of your home (especially if you have deliveries placed near your front entry often), a recording device overlooking vehicles that are not parked inside a structure, and some manor of lighting that illuminates commonly dark areas around your home are the basic needs.  Remember in setting up video recording that unless intended for significant low light, cameras require a specific level of light to be effective in capturing details or images.  It may require you to combine a video recording device and lighting device to make them effective.  Typical video surveillance services offer a minimum of 3 days recording storage and can offer as high as a year.  3 days is fine, however sometimes it can take up to 7 days for the realization that evidence of a crime or incident would be captured by your system.
Take photos of valuable items.  This helps prove ownership and keeps a record if items are stolen.  If items have a serial number or marking, take note and / or photos to document.  This is especially necessary for firearms and cellphones.  Maintain this record both electronically and have a printed or hand-written copy in a place you will easily locate it if needed.
Break down the boxes of high dollar electronic items when putting them out to the curb.  Not only does this help with recycling, but it makes new purchases of such items less obvious to individuals driving through.
Have plans in place for your family regarding what to do if they observe a crime or if an incident occurs so that their safety and activation of emergency response can be efficiently and effectively applied.  This can include natural disasters, medical emergencies, and fires.  Ensuring everyone knows what to do and practicing these drills will keep everyone calm and increase the odds of everyone remaining unharmed.
Secure firearms at all times within the home.  Do not store firearms in your vehicle unless you have a safe/lock box to store it in there as well.  Many firearms are obtained by criminals via thefts from vehicles.
Be a good witness.  Do not hesitate to call 911 if you observe something that 'doesn't seem right'.  Many crimes have been prevented and lives saved because a neighbor made the decision to call and have a situation checked out.  Police intervention is most effective when they are activated as soon as possible to a crime occurring.  Stay on the line with Dispatch and observe from a safe distance to provide as much information as you can.  Do not put yourself in danger.
Be aware of the common types of scams and how scams typically operate.  See the section on scams and identity theft for more details.  Remember that no legitimate government agency, court, banking, or debt collecting agency, or prize company will require you to pay in gift cards at any time.  Winnings that require you to send money to get money are not legitimate.  Always be willing to hang up, research the main number to contact the business or entity the person claims to be from, and ask for confirmation before ever sending money.  Do not call the number provided by the person who contacted you until you have confirmed their claims through a secondary source.
Change your passwords regularly.  Yes.  It gets annoying at work when you have to change passwords for the systems you work on three or four times a year, but this is actually necessary to safeguard your information.  The longer a password is used, the more often it is used across different platforms, and the more simplistic it is, the easier it is for a tech savvy criminal to obtain it and use it on all password protected items you have online.  Follow the up-to-date recommendations for developing new passwords.
Parking in Villa Hills
City Ordinance on Parking for Villa Hills states:
§ 74.20  GENERAL REGULATIONS.
   (A)   There shall be no parking within thirty (30) feet of any intersection.
   (B)   There shall be no parking within twenty (20) feet of any fire plug.
   (C)   There shall be no parking within five (5) feet of any private driveway.
   (D)   There shall be no parking on the curb lane of the street from which opposing traffic is coming facing the parked vehicle. By this provision, it is intended to prohibit parking in the wrong direction on two-way streets.
   (E)   There shall be no parking of any vehicle upon the city streets for a period greater than seventy-two (72) consecutive hours.
   (F)   There shall be no parking within ten (10) feet of a mailbox between the hours of 8:00 a.m. and 6:00 p.m. Monday through Saturday.
   (G)   There shall be no parking within cul-de-sacs.
   (H)   There shall be no parking within twenty (20) feet of a stop sign.
The complete City of Villa Hills Ordinances can be found by
clicking here
.
Snow Emergencies
What is a snow emergency?
Snow emergencies are emergencies that can be declared at the State, County, and City levels and are based on the predicted or actual snow fall / dangerous weather conditions affecting travel and safety.
There are three levels of snow emergency:

Level I:

Conditions: Roadways are hazardous with blowing and/or drifting snow, roadways may be icy.
Advisory: Cautious driving is advised

Level II:

Conditions: Roadways are hazardous with blowing and drifting snow and roadways may be icy.
Advisory: Only motorists whose travel is necessary should be on the roadways. Residents are urged to contact their employer to see if they should report to work.

Level III:

Conditions: All roadways are restricted to emergency personnel, travel for work, provisions, medical supplies or medical treatment, and private snow removal operations.
Advisory: Essential travel only is advised. Violators are subject to prosecution. Residents are urged to contact their employer concerning work schedules
Can I park on the roads during a snow emergency?
No.
In accordance with

 

Villa Hills City Ordinance 74.24 and Crescent Springs Ordinance 74.01,

 

it shall be unlawful to park a vehicle on a street for the duration of the emergency. If necessary, the Villa Hills Police Department will issue citations and remove vehicles from roadways once the Snow Emergency goes into effect.
How would I know if a snow emergency has been declared?
Notice of snow emergency is dispersed to the public in a number of ways:  Via City and Police Facebook accounts, on the City website's

 

main page, and in serious situations, will be pushed out to your cell phones through an emergency alert system. Often news of the emergency status will be reported on by local news and radio stations as well.
The Cities will follow the lead of the County, so if you heard that there is a snow emergency called for Kenton County, there is going to be one in effect for the City.
It is important for your safety that you stay aware of weather conditions in the area and have plans in place for your workplace as well as your family for handling unsafe weather.  Check out the

 

Kenton County Emergency Management page

 

for advice on how to stay safe during winter storms and other disasters.
What is a snow emergency for?
The purpose of declaring snow emergencies is to limit unnecessary travel on the roads for the safety of the community, road crews, and first responders.  This limits the risk of damages to private property and makes it easier for road crews to clear the roads.
By opting to wait until the emergency has been lifted, you are making the roads safer for first responders and you are protecting yourself, your family, and your property.  Less traffic on the roadways also makes it easier for road crews to clear the roadways so that normal travel can resume sooner.
By parking off the streets, you protect your property as well as allow the roadway to become fully cleared to allow for safe travel and plenty of parking options for you and your neighbors, rather than contending for limited cleared parking spaces among snow mounds.  This also prevents your vehicle from being buried in snow by the plows, creating more work for you to unbury it.
Animals - strays, complaints, and ordinance
What do I do if I see an animal running loose in the City?
If you see a loose dog or other animal, contact the owner if you know who they are.
If you do not know who owns the animal,

 

contact the Kenton County Dispatch Center at 859-356-3191 and they will contact Animal Control.
Keep children inside. Wait for Animal Control to catch the animal before going outside.
Do not pick up or touch injured animals. A bite from an animal may necessitate medical treatment for the injury and shots for rabies. This is especially true if the animal runs away before it can be caught and tested.
If you know the animal and it is familiar with you, try to contain it to a fenced yard. Avoid pulling on it. If you scare or injure it, it may bite you.
What do I do if a neighbor's dog is barking non-stop?
Under the noise section of the ordinances, the City has defined, "The keeping of any animal or bird that causes frequent or long continued noise in excess of fifteen (15) minutes that disturbs the comfort or repose of any persons in the vicinity is prohibited."
With respect to enforcement, this is a highly subjective issue.  Dogs will bark for any number of reasons, and once addressed, tend to stop.  Many times when an Officer arrives in the area, the barking has already been resolved or they do not observe a continuous issue to address.
What are the laws about pets / animals in Villa Hills? 
The City has a Leash Law, this requires the licensing of all dogs and cats in the city.
Pet Licenses can be obtained at the Kenton County Animal Shelter. The cost is $5.00. The registration and license period shall be between January 1st and December 31st of each year.
It is unlawful to keep any one residence, within the city limits, more than five dogs or cats or any combination thereof. The exception is that the owner or person's), who has custody of a dog or cat, may obtain the puppies or kittens, for a period of twelve weeks after the birth of the animals.
If you feel animals are being kept outdoors in inclement weather or in unsafe conditions, contact the Kenton County Animal Control either through the non-emergency dispatch number: 859.356.3191; Or through email:

 

[email protected]
For more information:  Animal Control website   
Requesting extra patrol and vacation checks
Does the Villa Hills Police Department offer extra patrol for situations like funerals or vacations?
Yes.
For short-term events such as funerals, please call 859.341.3535, Monday – Friday, 9:00 AM to 5:00 PM. If the Administrative office is closed you may call 859.356.3191 and ask to speak with a Villa Hills officer.
For house checks while you are out of town on vacation, please fill out the Vacation Check Request form found on the Police Department main page, here.
Can I practice archery in my backyard?
No.  
The City of Villa Hills prohibits archery, along with other projectiles, within the City.  See the ordinance below.  
130.01  PROHIBITION AGAINST DISCHARGE OF FIREARMS AND OTHER DANGEROUS WEAPONS; EXCEPTIONS.
   No person shall discharge any firearm, or dangerous weapon, including, but not limited to, a rifle, shotgun, revolver, pistol, muzzle loader, compressed air gun, BB gun, bow and arrow, cross bow, or sling shot within the city limits of Villa Hills.  This section shall not apply to any discharge by a law enforcement officer in the necessary performance of his or her duty; or in the necessary defense of person or property; or when a permit has been issued by the Chief of Police.
   The Chief of Police may issue permits for the discharge or shooting of firearms in police-approved indoor ranges or for particular occasions, provided the Chief of Police is satisfied that due regard is provided for the safety of persons and property.
Still need help?  Don't hesitate to call our office:  (859)341.1515
Police Department's FAQ page