Villa Hills Police Department encourages interested and qualified individuals to apply
The City is an Equal Employment Opportunity employer.
As of March 2023, the Villa Hills Police Department is not actively hiring. 
However, interested applicants are still encouraged to submit their resume and application. 
Applications received during periods when we are not actively hiring are retained for up to 6 months.
Send signed application with resume to "Police Officer Search, 720 Rogers Road, Villa Hills, KY 41017".
The Villa Hills Police Department prides itself on hiring and maintaining talented, professional officers.  The Department facilitates various training options to help these career officers in developing new and improved skills in police work, investigations, crisis response, changing technologies, and specialties in their field.  While all officers receive their base training through the Department of Criminal Justice Training in Richmond, KY, many of our officers have received specialized training in areas such as K9, Interdiction, Investigations, Collision Reconstruction, Sexual Assault Investigations, and Arson Investigation.  Many of our officers are active on County-wide call out teams and with support groups for Officers within the Commonwealth. The Villa Hills Police Department continually strives to grow and set standards in Policing. The Villa Hills Police Department is made up of 15 officers consisting of 1 K9 unit, 1 detective, and 1 School Resource Officer at the patrol level.  There are two patrol division supervisors (sergeants), a Lieutenant, and the Chief.
Department Structure Chart:
Requirements for Lateral Officers:
Must be at least 21 years old, have a high school diploma or equivalent, be POPS certified, and be able to work flexible hours as needed including overnight and weekend shifts.
Lateral officers are compensated toward years of service and is not lateral in rank or seniority.
Requirements for Recruit Officers:
New police officer applicants must meet qualifications required by the Kentucky Revised Statutes and Police Officer Professional Standards and Certification Act, including but not limited to:
 Must be a U.S. citizen.
Must be at least 21 years of age.
Must have a valid Driver's License.
Must have graduated from high school and provide a diploma or G.E.D.
Must be fingerprinted for criminal history investigation.
No drug convictions of any type.
Must not be prohibited from carrying a firearm under State or Federal Law
Have read and signed the K.L.E.C. Code and Canons of Ethics.
If previously in the military, must provide proof of honorable discharge or other discharge by providing a copy of DD-214.
Must meet minimum standards required by the Kentucky Law Enforcement Council and complete the necessary forms to include but not limited to: Medical Examination Forms, History Statement Forms, and Guidelines Implementation Manual.
Must pass drug screen test in compliance with Federal Workplace Drug Testing Guidelines for the following drugs: THC (Cannabinoids), Amphetamines, Cocaine, Opiates, Phencyclidine, Barbiturates, Benzodiazepines, Propoxyphene, Methadone, Alcohol, and Oxycodone.
Submit to and complete a Background Investigation.
Complete a Personal Interview by the Chief or his designee.
Must not have had certification as a peace officer permanently revoked in another state.
Must undergo and pass a Psychological Evaluation/Examination.
Meet the current POPS Standards – (Click here for current standards)
Submit to and pass a Polygraph Examination.
Must successfully complete basic training through the Department of Criminal Justice Training.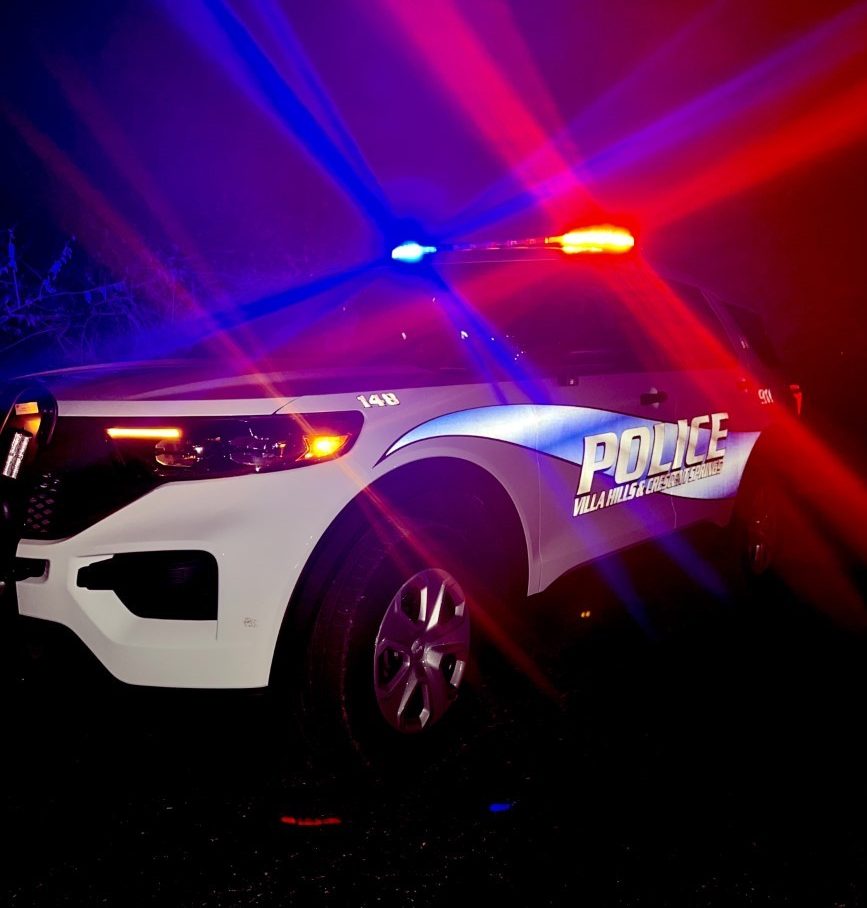 Professional Development at Villa Hills
Villa Hills Police Department offers many tracts for professional development, and encourages officers to pursue interests and take on responsibilities within the Department.  Current professional developments offered in City include, but are not limited to the following:
Bike Patrol
Interdiction
K9 Unit
Investigations
Collision Investigation / Accident reconstruction
Firearms Instructor
SWAT (Kenton County Regional)
Community Outreach Programming
Field Training Officer
Arson Investigation
Pay and Benefits:
Hourly rate $24 – $30 based upon experience, team spirit, attitude & training.
Excellent benefit package includes a generous co-pay only medical plan (no deductible, no co-insurance that is 100% paid for employee and children with nominal premium support for a qualified spouse; 100% paid dental, vision, life and long-term disability insurance;
Two weeks of Paid-Time Off to start, plus earn additional PTO each pay period based on your total years of government service;
Two weeks of sick time per year,
Paid parental leave.
Home Fleet cruiser.
FOP Legal Defense Fund offered.
Other benefits and leaves are also available.
Retired-Rehired officer benefits are slightly different due to state law restrictions.