Welcome to the city of Villa Hills!
Our small bedroom community is nestled in the hills of Northern Kentucky, above the Ohio River, and only 15 minutes from downtown Cincinnati, Ohio.  We are conveniently located a short 1.1 miles from the Interstate, which gives our residents easy access to entertainment, major sporting events, and hundreds of options for shopping and places for a night out.  Our family-focused community boasts five (5) community parks, a responsive and efficient public works department, and a full-time, professional police department.  Villa Hills is consistently ranked among the top 10 safest places to live in Kentucky.
Our City Offices are located at 720 Rogers Rd, Villa Hills, KY 41017
Hours:  Monday through Friday, 8AM to 5PM
Contact us:  (850) 341-1515
Villa Hills by the numbers:
In 2020, Villa Hills population reached 7.48k people.  From 2019 to 2020, Villa Hills saw a 0.349% increase in population.
The median age is 47.6 years
The median household income is $91,166
The median property value in Villa Hills, KY hit $218,500, and the homeownership rate was 93.3% in 2020.
The 5 largest ethnic groups in Villa Hills, KY are White (Non-Hispanic) (96.5%), White (Hispanic) (2.02%), Two+ (Non-Hispanic) (0.843%), Asian (Non-Hispanic) (0.334%), and Black or African American (Non-Hispanic) (0.187%).
Villa Hills Government:
Villa Hills is a Home Rule Class city under Kentucky law and is governed by a mayor and council.
Visit our Government page for information about Council, Meeting schedules, Notices and Ordinances, and Transparency.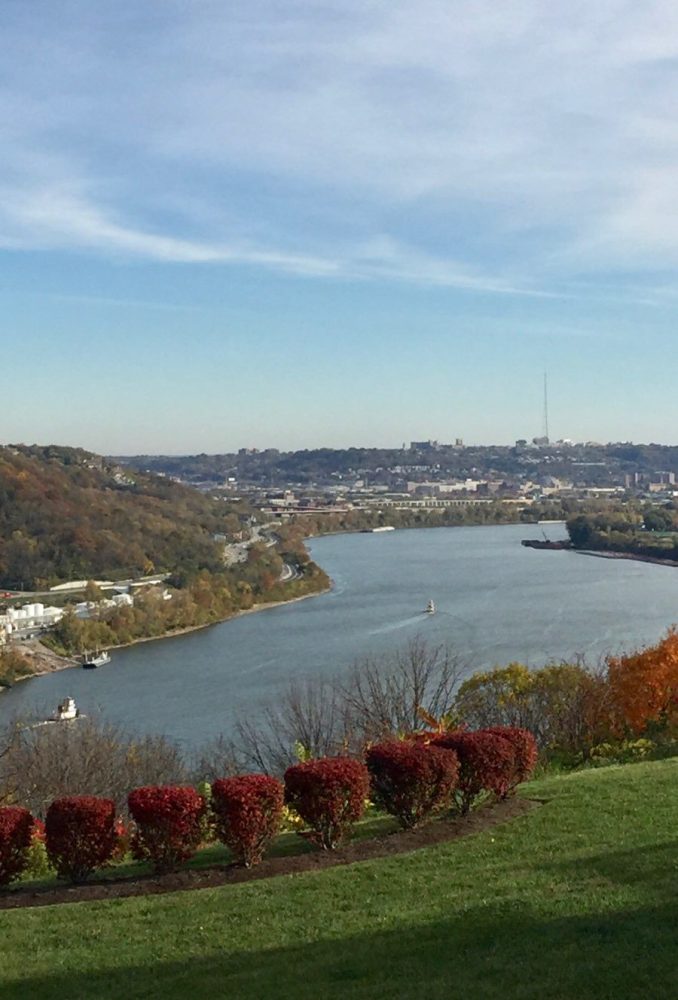 The History of Villa Hills
1785 – First known settlers were estimated to have arrived this year.  Robert McKay, his wife, and seven children traveled from Frederick Co, VA to settle on land that was deeded to him for service in the Revolutionary War.  It is believed that this parcel spanned approximately 3,000 acres.
1825 – Robert McKay's granddaughter married Charles W Scott and was deeded approximately 300 acres.
1843 – The Scott family began construction on a two-story white, brick house that stood on Highwater Road over looking the Ohio River until 2004.  The Scott residence was occupied by thier family line until 2004.
1903 – The Sisters of St. Benedict purchased approximately 85 acres of the W.C. Collins Estate, on which St. Walburg Monastery and Villa Modonna Academy were built.  The Sisters would continue to purchase neighboring parcels of land over the years and currently own about 230 acres.
1900 – At this time in history, Villa Hills consisted of unincorporated farmland dubbed "Madonna Acres" and "Ludlow".
The 1950s – Many farmers took advantage of the opportunity to sell their land for development, which fueled the growth of the community.  As the population sprawled away from the city, many families found the pasture-esque setting of Villa Hills appealing and preferable for raising young families.
1955 – Sale of both the Boh and Schreck family farms brought development of new streets in the area, namely: Ann, Frank, Kenridge, Mary, Rardin Ct, and Sunglow.
Early 1960s – The creation of I-75 brought in residents from the cities to the newly formed suburbs. At the time, the existing streets consisted of Buttermilk Pike, Collins Road, and Amsterdam Road.
1962 – Villa Hills incorporated as a 6th class city.  The population was 425.
1964 – Madonna Manor Nursing home opened on the Villa Madonna property.  A group of neighbors, concerned that the area would be incorporated into the City of Covington, created a board of trustees and on $300 borrowed from the Villa Hills Civic Club, incorporated the City Of Villa Hills.  As a first order of business, the Board moved to annex the property surrounding the original half (1/2) square mile of Villa Hills. That property was obtained, and Villa Hills grew to 3.5 square miles.
1980 – The first Villa Hills City Building was built on Rogers Rd.  This location housed the Villa Hills Police and Public Works departments.  Prospect Point was also annexed into the city this year.
1990 – A Curbside recycling program was initiated in the city.
1992 – River Ridge Elementary opened.  At the time, River Ridge was the largest elementary school in the state of Kentucky.
1995 – The Villa Hills Police Department received its first Certificate of Accreditation from the Kentucky Law Enforcement Professional Standards Committee
2000 – A historical marker was dedicated to commemorate Sgt. Ronald Niewahner, a resident of Villa Hills who was killed in action in Vietnam in 1968.  The marker can be found at the intersection of Valley Trails Drive and Niewahner Drive.  See Explore Kentucky History, for more information on Sgt. Niewahner and the historical marker.
2014 – Villa Hills Longhorns Baseball Club founded with a "goal to help young baseball players grow and develop their skills and love of the game while creating a positive environment where kids have fun".
2018 – Villa Hills Police Department contracts to extend police services to the City of Crescent Springs.
2022 – Villa Hills Civic Club, a community cornerstone, burns down due to an accidental fire.
Publications on the history of Villa Hills:
Images of America: Villa Hills by Deborah Kohl Kremer presents the history of the farmers who worked the land, the Benedictine sisters who established a monastery, and the young families who worked together to build the city now known as Villa Hills.
Photos of Villa Hills From its founding to the early 90s.  Many photos and articles were located in the records room during an audit.  Some of those clippings did not include names, dates, or publishing origin/photographer.  Other images included here can be found in the collections at the Kenton County Public Library, where images from Villa Hills and all of Kenton County are stored and accessible to the public at:  https://www.kentonlibrary.org/genealogy/facesandplaces/