Police
---
Dear Villa Hills residents and visitors,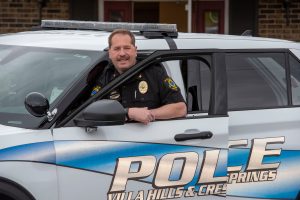 I welcome you to the Villa Hills Police Department website. We believe you will enjoy touring our site. Here you will find information about your police department, important initiatives and links to services or programs offered by the department and the community. It is one of the ways we strive to communicate with the members of our community.
The men and women of Villa Hills Police Department are a goal oriented proactive police department committed to the enhancement of the quality of life that our residents and visitors have come to expect. We are dedicated to the protection of life and property of all persons, while fostering a positive relationship of cooperation and understanding between the Police Department and the citizens in which we serve.
My goal and commitment to the citizens and visitors of Villa Hills is to provide quality police services using a community policing/problem solving approach. Your officers understand that community policing is not derived from a text book; it is a mindset and a dedicated belief that without stakeholders and partnerships we cannot succeed in maintaining the quality of life that all Villa Hills citizens deserve.
Please explore the many options that this website offers. Our goal is to make this website informative and meet the needs of our community by providing information and answering the questions of the community while you get to know us. I trust that there is valuable information contained herein for you to use. If you have further questions please stop by the Villa Hills Police Department located on 719 Rogers Road, Villa Hills or contact us at the provided email and phone listings.
Lastly, I want to thank all the members of Villa Hills Police Department for their faithful service and unrelenting dedication to policing excellence.
Respectfully,
Chief Bryan Allen
---
Mission Statement
The Mission of the Villa Hills Police Department is to professionally, and with respect
lead the efforts within the community to preserve the public peace,
protect the rights of persons and property,
prevent crime,
and generally provide assistance to citizens in need.
Values Statement
We value human life and personal dignity
We value personal and professional integrity as the basis for community trust
We value fair and impartial enforcement of all laws
We value professional excellence and customer service
We value all members of the Villa Hills Police Department, both sworn and unsworn
The City provide 24-hour police protection. If you are interested in organizing a Neighborhood Watch meeting please contact the Police Department at 859.341.3535.
Like us on Facebook and follow us on Twitter @VHPD15
Learn more about the Villa Hills Police Department MYPD app.   
A Special Event Permit is required for any festival, ceremony, show, demonstration, exhibition, pageant, transient amusement enterprise, outdoor temporary gathering or similar event, in or on or having substantial impact on any street, park, or other public place in the city. Any person or organization wishing to conduct or sponsor such an event is required to complete the City of Villa Hills Special Event Application form.  
Scam Alerts
Scammers want your money and personal information.  Be Ready.  Protect Your Family.  Sign up for Scam Alerts, Text KYOAG Scam to GOV311 (468311) or to report a scam, contact the Office of the Attorney General at (888) 432-9257.
Scammers tend to target elderly people with all kinds of schemes, taking advantage of their isolation, ease of trust, higher savings, and lack of tech savvy, among other things.  Click here for information on  common fraud tactics and popular scams used on seniors. Please share with your friends, neighbors and family:   Common Scams that Target the Elderly
Crime Prevention Tips
A home invasion is when robbers force their way into an occupied home, apartment or hotel room to commit a robbery or other crimes. Home invasion is like the residential form of an automobile carjacking and it's on the rise.
The home invader will sometimes target the resident as well as the dwelling. The selection process may include a woman living alone, a wealthy senior citizen or a known drug dealer. The greatest violence usually occurs during the initial sixty seconds of the confrontation and home invaders often come prepared with handcuffs, rope, duct tape, and firearms.
The same tactics used to prevent daytime burglaries will go a long way to preventing forced entry home robberies.
Remember these important security steps:
Install solid core doors, heavy duty locks, and window security devices
Lock all doors, windows, and garages at all times
Use the door peephole BEFORE opening the door
Use your porch light to help you to see clearly outside
Never rely on a chain-latch as a barrier to partially open the door
Never open the door to strangers or solicitors
Hold a family meeting to discuss home security plans.
Under Age Drinking
Call 859.392.1962 to report any party in Kenton County where underaged drinking is planned or suspected. See our Party Crashers flyer for more information. Thank you Villa Hills Police Department.
Resources
Attorney General's Elder Abuse Hotline – 1 877 ABUSE TIP (1-877-228-7384)
Attorney General's Consumer Protection Hotline 1-888-432-9257
KY Adult Abuse Hotline  1-877-597-2331
KY Aging Services  1-502-564-6930
"No Call" Registry  1-888-382-1222
Kentucky State Police Forms
Civilian Collision Report Form
Obtain Accident Reports from Buycrash.com
Northern Kentucky Hates Heroin
St. Elizabeth Alcohol and Drug Treatment
Identifty Theft Protection services review 
Stranger Danger
Home Safety Tips While You Are Away
Department of Homeland Security
Red Cross 
Crime Stoppers
National Crime Prevention Council
Article where Chief Allen discusses Villa Hills Police use of on-line crime mapping.
Kentucky Attorney General's Office:
To request a speaker on information regarding scams and identity theft for your senior group, church group, or civic organization, etc., contact the Office of Senior Protection at 502-696-5300
To obtain assistance with a consumer problem involving goods or services you have purchased, you may file a complaint online at www.ag.ky.gov or call 1-888-432-9257 to request a complaint form.
Also, report to Federal Trade Commission at 877-382-4357.
---
Citizen Complaint process
The Villa Hills Police Department requires the members of this department to be respectful in demeanor, professional in appearance, and to conduct themselves in an ethical and lawful fashion.
All complaints made against the department or its employees will be investigated
Procedure
Attempt to contact or make arraignments to meet with a supervisor or the Chief of Police. If the complaint does not concern an employee, but instead a particular department policy or procedure, please ask to see the chief.
If complaint cannot be resolved you will through a supervisor or the Police Chief, you will be asked to complete a Citizen Complaint Form which identifies the circumstances, nature, and extent of your complaint. The form requests specific information we need to do a thorough investigation.
Persons who initiate written complaints shall receive written acknowledgement from the Chief of Police or the Chiefs designee.
The status of the investigation shall be communicated to the complainant periodically and at its conclusion.
Investigations shall be completed within 30 days from the time the complaint was filed. The chief of Police may grant an exception when extenuating circumstances are presented. If the complaint is not resolved to the satisfaction of the complainant, the complainant may either request a meeting with the Chief of Police to discuss the matter, or file a written request for a hearing on the complaint with the City Administrator within thirty (30) days of receiving written notification from the Chief of Police regarding disposition of the complaint.
At the conclusion of each investigation into allegations of misconduct, a conclusion of fact will be designated from one of the following:

Unfounded – The allegation is false.
Exonerated – The allegation is true but lawful and proper.
Not Sustained -There is insufficient evidence to either prove or disprove the allegation.
Sustained – The allegation is supported by sufficient evidence and the action violates criminal law and/or department policy.
Policy Failure – Policy or lack thereof facilitated the complaint.
Withdrawn – The complainant withdraws the complaint prior to the completion of the investigation.
Misconduct not based on complaint – The investigation reveals sufficient evidence to indicate other infractions, not based on the original complaint.

If the complaint is against the Police Chief, you can meet directly with the Police Chief, or file a formal complaint directly with the City Administrator/Clerk.
PLEASE NOTE: A person making a false statement in their complaint may be in violation of KRS 519.040, Falsely Reporting an Incident, and can be prosecuted. This offense is a Class A Misdemeanor, punishable by up to twelve (12) months in jail and/or a $500 fine.
Here you can create the content that will be used within the module.